We Cater to Specialty Markets and Grocers
Run Your Store Like a Big Box Without Acting Like One - Track Inventory, Manage Vendors, Keep Time & Attendance
 Inventory Control
Track thousands of products from dry goods to produce in your system; reduce shrinkage by knowing what's in stock at all times
 Accept Coupons
Create your own coupon or use manufacturer coupons to attract new customers with exciting offers
 Track Customer Loyalty
Reward your customers for frequent visits and purchases with integrated customer loyalty programs
 Mix & Match Pricing
Easily group products for enticing deals that increase sales and move inventory
The Features You Need to Run Your Market
Scale Integration
With integrated scanner-scales, standalone scales, and deli scales, accelerate the checkout process by automatically ringing up weighed items.
 Sales Reports
Know what products are moving and what products are tying up your cash. Track sales by department so you know what departments need improving.
 EBT and Debit Capable
Easily accept EBT, debit, and credit cards. Expand your customer base by accepting all forms of payment.
 Hot Keys With Pictures
Stop trying to remember the PLU's for all your produce. Quickly navigate through your hot keys to find a picture of the appropriate product.
What Our POS System Can Do For Your Grocery or Market
Do I really need a grocery point of sale system?
Absolutely. Some businesses can get by with an old-time cash register, but for groceries and markets, checkout speed and efficiency can make or break your business.

I own a butcher shop and meat market. Do you have a POS system for me?
Butcher shop and meat market POS systems are basically the same as our grocery point of sale. The system allows users to weigh and sell meat by the pound and even track inventory on product sold by the pound. Label printing scales make a great addition to any retailer offerings custom cut meats and cheeses.

What does a grocery POS come with?
Grocery POS systems come with a variety of specifications and peripheral devices depending on your business' needs. All retail POS systems come with a standard touchscreen terminal, receipt printer, and cash drawer. From there, your POS can be customized to meet your needs. Larger grocery stores with heavy volume tend to use scanner-scales to maximize checkout speed. Markets with delis or meat departments often utilize label printing scales.

I don't have room for a scanner-scale in my market, but I want to quickly ring up sales, what can I do?
We offer standalone scales that directly integrate with our grocery POS system as well as flatbed and omnidirectional barcode scanners that can scan a barcode at any angle.

How can your grocery POS software help my business?
Our grocery POS software will help you keep track of inventory stock, automate purchase orders, determine best and worst sellers, use gift cards and loyalty plans, and help you optimize employee labor.

What kind of groceries do you serve?
Whether you are a specialty market, an independent location, a multi-unit chain, or even a meat market, we can customize a POS system with any hardware to meet your needs.
Standard System
Our standard grocery POS system includes: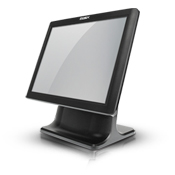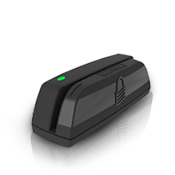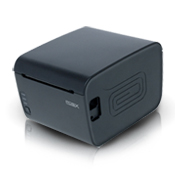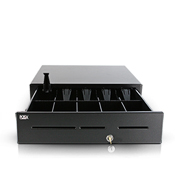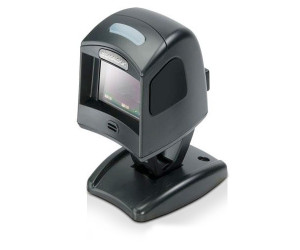 Most Common Upgrades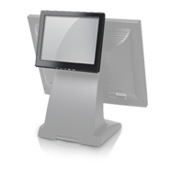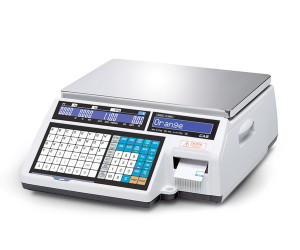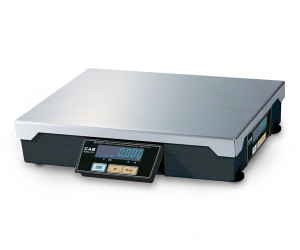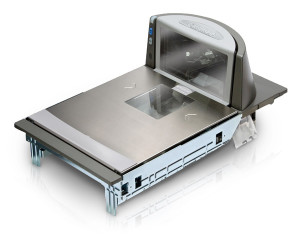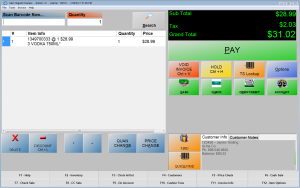 Quickly Ring Up Sales
Moving customers through the checkout process and avoiding long lines is absolutely imperative for groceries and markets.
Use customizable hot keys to search for produce and for other prepared food items or easily search for products using names or PLU numbers. Integrated scales allow for fast and accurate check out of weighed items.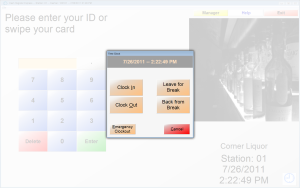 Clock Employee Hours and Attendance
No more punching time cards! Each staff member will be able to quickly and easily track their working hours and break times. Each employee can be setup with their individual pay rate, and you can run reports with a single click for payroll processing. Remove the administrative burden of manually calculating hours and let our system do the work for you.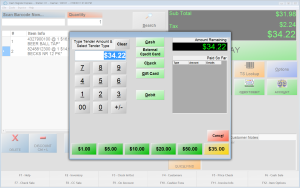 Accept All Forms of Payment Including EBT
From cash, credit card, check, on account, Apple Pay, and Google Wallet, accept virtually all forms of payment. Your store can accept debit and EBT as well with a pinpad to broaden your customer base. We guarantee we can reduce your credit card rates and save your business money. In an industry where every dollar counts, stop throwing away money on needless fees.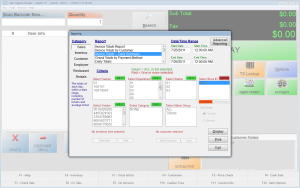 Make Business Decisions Based On Data
The combination of shirkage, perishable products, thin margins, and potentially thousands of SKUs means there's absolutely no room for error when making business decisions about which products to stock and which ones to let go.
With over fifty pre-built reports, gain the insight you need to make better business decisions.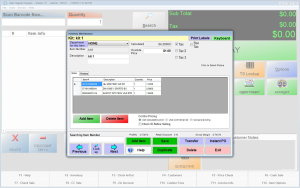 Create Combo Kits
Grocers frequently bundle items together to drive sales of targeted products. A classic example is offering a jar of marinara sauce and a block of (high margin) Parmesan cheese at a 10% discount when purchased together. Or maybe you want to offer a bundled discount on flowers and chocolates during Valentines Day - the bottom line is that you upsell a high margin product by bundling it with product known to drive sales.
Our grocery POS software makes creating a combo kit fast and easy. Create a unique barcode or hot key for the bundle or have the POS system automatically recognize the combo when the items are rung up separately. Regardless, the system knows when the combo has been sold and applies the appropriate discount.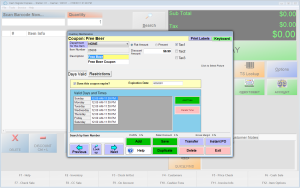 Issue Coupons to Drive Sales
There are a lot of customers out there that just can't pass up an item if it's on sale, especially if they have a coupon in hand. Create coupons for your entire inventory, individual items, departments, or select groups of items.
The discounts can be any flat amount or percentage off the retail price. Place an add in your local paper, or online, with a barcode and your customers will be able to bring it to scan at check out. Similar to combo kits, issuing coupons will drive sales for your grocery or market.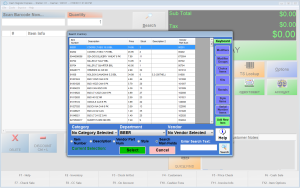 Unlimited Database of Items
One of the most common questions we receive from groceries is how many items can your database hold? An unlimited amount.
And the best part, you can easily find and access any product. From the main POS screen, items can be searched by Category, Department, or Vendor to locate products in a matter of seconds. Never have your a customer stuck during a transaction because the cashier can't locate an item.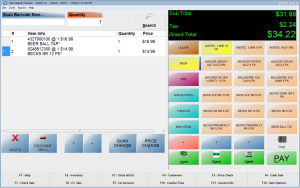 Hot Key Look Ups
Unless you want to slap a barcode on a head of lettuce, our POS software uses hot keys to look up produce and other non-barcoded items. Sort products by department to quickly navigate through fruits, apples, and then the specific variety of apple and eliminate cashier errors.
Hot keys ultimately reduce checkout times by eliminating the need for cashiers to sort through dozens and dozens of PLU numbers. Coordinate each department by color to maximize efficiency..